About Us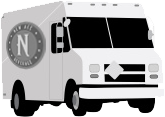 At New Age Beverage Distributors, our goal is to provide best-in-class service and support. New Age Beverage is comprised of a group of hard working, reliable vending professionals.
We are a hands-on, full-service vending company, who provides all of your vending needs. Your business, customers, and employees matter to us and that's why we go above and beyond to fulfill your vending service needs.
Our Story
New Age Beverage was born out of an unmet market need to provide businesses with the ability to supply their customers with beverage and snack choices that enhance their workplace or retail environment.
For over 30 years, our experienced professionals at New Age Distributors have been providing Vending Services to our community. We pride ourselves on developing lasting partnerships with our customers and guarantee reliable customer service.
We service Harford and Cecil Counties.  Some of our locations include Bel Air, Havre de Grace, Aberdeen, Elkton, North East, Edgewood, Belcamp, Rising Sun, Perryville, APG, and many more!
Our Products
In a market that is constantly evolving our commitment to you is to provide the most up-to-date brands and equipment. We work with leading suppliers and brand representatives to keep a close eye consumer and market trends to provide the optimal selection of products in your vending machines.
Our Promise
Our primary goal at New Age Beverage is our customer's satisfaction. And we take it seriously!
When our customers succeed, we succeed.